Your Individual Product Recommendation:
Based on your answers, we have created your individual product selection for you. So that you can
prepare for your

pregnancy 

full of female energy and with a high level of wellbeing

.

be 

healthy and full of energy

 during your pregnancy.

be yourself every day, 

more balanced 

for your friends, family and at work 



(The recommendations are adapted to your diet. If you have any questions, feel free to contact us directly in the chat at any time.)
6 Products Tailored Specifically to
Your Needs
:
All of our products are 100% natural and highly bioavailable, for
wellbeing and health before, during and after your pregnancy.
The Perfect Bundle for Your Needs:
Our bundles offer natural and high-quality active ingredients for all areas of application - optimally combined and ready to provide you with holistic care.



This bundle is especially suitable for your needs: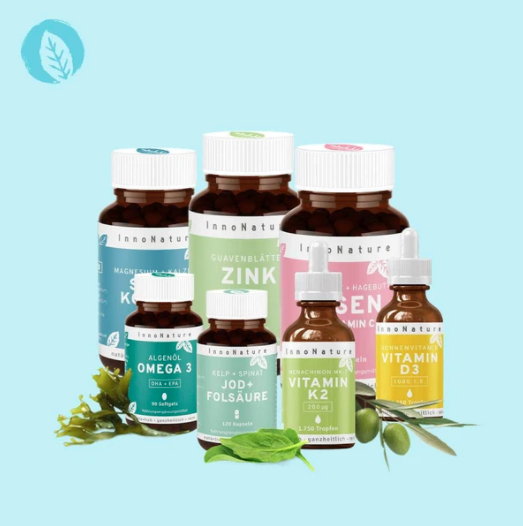 Fertility Pregnancy and Breastfeeding Bundle
This package contains the highly effective combination of vitamin D3, vitamin K2, iron, sango sea coral, zinc, iodine + folic acid and our vegan omega 3 made from algae oil.
This carefully selected product combination can support you wonderfully during this special time.
The individual active ingredients are highly dosed and, due to their naturalness, they have a high bioavailability.
All products are vegan and effective on a holistic level.
✔ Highly effective combination
✔ As a cure or permanent dietary supplement
✔ 100% natural ingredients and vegan

The founders Julia and Gil improved their long-lasting health problems from their youth with a holistic and healthy lifestyle and are now on a mission to help other people too.
Julia
Holistic Nutrition Expert & Founder
Julia is a holistic nutritionist and has long been looking for nutritional supplements that don't make false promises.
The market is full of products. Unfortunately, many people do not know what really helps them and what is maybe even harmful... By studying to become a specialist consultant for holistic health, she has now found out which products lead to a better life every day.
InnoNature is based on this.
Gil
General Manager & Founder
Gil is an e-commerce entrepreneur. He is enthusiastic about building a product line that focuses on honest and natural products and helps the customer along the journey of life
For Gil, eating well has changed his life. Severe back pain, allergies and sleep problems accompanied him for over 20 years until he changed his diet with the help of Julia and InnoNature.
Here's what our customers say:
These are only 4 of the 1,000+ reviews we received last year. At Trusted Shops we are rated 4.93 / 5.00!
Thank you dear Julia! Since I bought your products, I've finally found my way back into life and I'm no longer just tired and sad. I have already lost 10kg and because of my good mood and energy, I also made changes to my diet :-)
I love watching your stories and posts and your account is now one of my favorites on Instagram because you can learn so much and get inspired, without just marketing your products in every post, that's so great!
Hello dear Julia. First of all, thank you very much for the great products. I am enthusiastic and cannot live without InnoNature anymore :-)

Hi! I think your products are great and I have much better blood results ​​since I take them - I'm just generally better!

InnoNature on Trusted Shops:
We received 3,000 reviews in the past year.

At Trusted Shops we are rated 4.93 / 5.00!

 InnoNature is a startup from Hamburg, Germany, with a clear vision:
We focus on natural health.
We only offer what you REALLY need! 
Use left/right arrows to navigate the slideshow or swipe left/right if using a mobile device